Bring napkins to any picnic with this chicken as the main star! It's the perfect combination of sticky, sweet, and tangy. The marinade makes the chicken tender and so very delicious. It's wonderful alongside your favorite macaroni or potato salad, and even at room temperature, your chicken is so perfect.
For a more formal meal, I use this recipe and marinate chicken breast instead.
A frugal tip, if you find chicken on sale, buy what you can, and divide it evenly into family side packs. Divide the marinade between the bags and freeze. As you thaw the chicken, they will be perfectly seasoned and ready for the grill!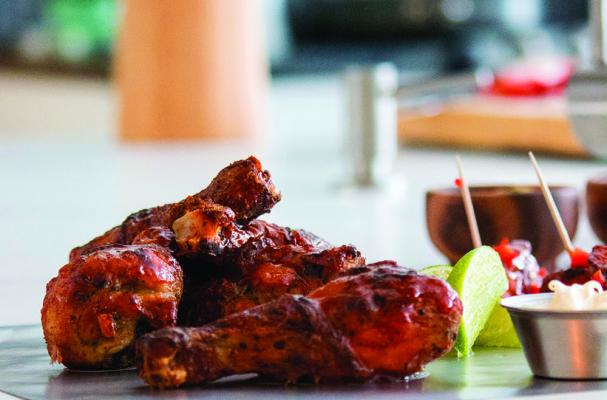 12 chicken legs
Marinade:
• 1/3 cup (85 ml) olive oil
• 1/3 cup (85 ml) balsamic vinegar
• 1/3 cup (60 ml) Tamari or soya
• 1/3 cup (60 ml) maple syrup
• 3 Tbsp. (15 ml) of grainy mustard 

• Lime zest
• 1 Tbsp. (15 ml) lime juice
• 1/2 red pepper (finely chopped)
• 1 Tbsp. ginger (grated)
• 1 Tsp. fresh coriander (chopped)
• 1 Tbsp. (15 ml) garlic
(pressed)
• 1 Tbsp. (15 ml) thyme (chopped)
• Salt & pepper to taste
Preparation
1. Pour all marinade ingredients in a in a sauce pan over medium heat and bring to boil, stirring often. Remove from heat, pour into bowl and let cool in the fridge.
2. Place chicken in a bowl with ½ marinade, and refrigerate for 2 ½ hours or overnight.
3. Remove chicken from fridge. Preheat grill to medium heat. Place foil on grill, add chicken.
4. Cook for 15 minutes or until juices run clear, turning often and basting with extra marinade.
Image Sources:
Categories: