Summer treats aren't just for kids . How does a boozy, icy treat sound after you worked hard all day? We thought you might like some of our favorite recipes that cool you off and contain an extra treat of alcohol just to keep things interesting. The hardest part will be keeping this tasty recipe out of the hands of your little chefs!
Gin and Ginger Granita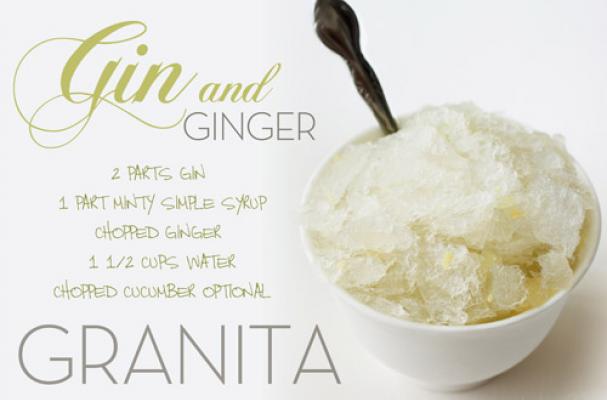 A popsicle can be a nostalgic treat in the warm summer twilight. While enjoying one, can't you just hear the crickets chirping, and the salty bay water gently lapping onto the dock across the street while lightning bugs glimmer in the yard? Well, I can. Maybe you're not having the right kind of popsicles.
You might try these. These popsicles and frozen treats have a little kick - provided by various alcoholic ingredients. You can serve them at happy hour. Just keep them separate from the kids' desserts.
First up is a Gin and Ginger Granita. For me good time, relaxing porch-sittin' involves a nice gin and tonic. This frozen version is even better.
Gin and Ginger Granita
What You Need:
Note: 1 "part" in this recipe refers to 1 shot glass's worth of an ingredient.
2 parts Gin (I used Hendrick's)
1 part minty simple syrup (recipe from Poet in the Pantry here:)
1 1/2 tablespoons chopped and peeled fresh ginger
1 1/2 cups water
Juice from 1 lime
Optional: a few slices of cucumber, chopped and peeled
Equipment: a blender, ice cube trays
What to Do:
Throw all the ingredients in a blender and pureé.
Pour into ice cube trays and pop them in the freezer, and let them freeze overnight.
The next days, you can transfer your gin 'n' ginger cubes into a bowl and crush with a fork. They should break down into a perfect crushed ice texture.
Divide into small bowls and serve.
Image Sources: