Look no further for your Thanksgiving dinner planning! We've got turkey recipes (smoked, deep-fried, roasted, sous vide!), easy appetizer recipes, desserts and sides, even a wine pairing guide from our wine connoisseur friend, Jameson Fink! Also, check out our Thanksgiving Holiday Recipe Page here and don't miss these Pinterest boards for even more recipes!
• Appetizers
• Cocktails
• Side Dishes
• Salad Recipes
• Desserts & Baking
• Thanksgiving Recipes

Learn How To Carve A Turkey Like A Pro!
6 Tips for the Perfect Roast Turkey
1. Brine Your Turkey: Soaking in a brine will flavor the bird as well as keep it moist. Learn how by watching this video.
2. Flavor The Bird: Make sure to adequately salt and pepper the turkey and fill the cavity with aromatic vegetables, herbs, and lemons.
3. Dry the Skin Before Roasting: Don't forget to pat down the turkey before putting it in the oven. The excess moisture will prevent the skin from getting crisp. (This does not include fat).
4. Use a Thermometer: A thermometer is the best way to check for doneness. It should register 165 degrees F in the thickest part of the bird.
5. Start the Oven High and then Lower the Temperature: Start the turkey at 425 degrees F to help crisp the skin for 20 minutes and then lower to 350 degrees F until cooked through.
6. Let the Turkey Rest Before Serving: Letting the turkey rest allows the juices to redistribute so that it will be moist and flavorful (this goes with any meat!).
Turkey! Turkey! Turkey!
Maple Glazed Turkey

Contributed to Foodista by Nicole Aloni
"Closed Oven" Turkey
Contributed to Foodista by Taste and See



Simple Herb Roasted Turkey

Contributed to Foodista by Alejandro Duarte

Easy Deep Fried Turkey


Photo: TheCookingPhotographer

Photo: woodleywonderworks
Tender and Juicy Sous Vide Turkey Breast

Stuffings, Sides & Salads
Jalapeño Cornbread Stuffing


Photo: Silvia Song
Buttermilk Cornbread and Sage Stuffing


Photo: Maggie Hoffman
Apple, Cranberry & Sausage Stuffing
Courtesy of Empire Baking

Sourdough Stuffing with Sage Sausage and Apples

Wild Rice Stuffing with Cranberries and Hazelnuts (Gluten Free)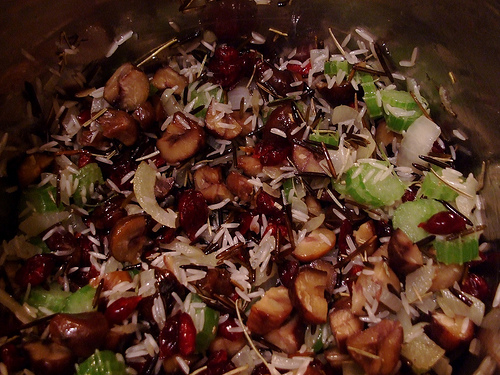 Porcini Mushroom Stuffing
This mushroom stuffing is great in mushrooms as an appetizer or stuffed into your bird!


Photo: Nikki L
Joël Robuchon's Famous Pommes Puree Recipe (Buttery Mashed Potatoes)
Mashed Potatoes with Garlic, Sage & Goat Cheese

Havarti Dill Au Gratin Potatoes
Contributed to Foodista by Seaweed & Sassafras

Sweet Potato Casserole with Pecan Crumble Topping





Ginger Sweet Potato Casserole

Contributed to Foodista by Bigelow Tea


Honey Dijon Roasted Brussels Sprouts

Roasted Brussels Sprouts With Red Onions and Pancetta

Contributed to Foodista by Diana Bauman


Cauliflower and Broccoli Gratin With Camembert Cheese

Contributed to Foodista by The Coffee Break

Homemade Green Bean Casserole


Photo: tomcensani
Sweet Corn Pudding

Courtesy of My Family Table: A Passionate Plea for Home Cooking by Chef John Besh

Roasted Brussels Sprouts With Garlic


Photo: mkosut

Pecan Topped Sweet Potato Casserole


Photo: mroach
Julia Child's Buttered Peas With Mint



Potato and Leek Gratin


Photo: tristanf
Buttermilk Mashed Potatoes
Contributed to Foodista by CandyGirl

Easy Delicious Pan Gravy


Photo: Special*Dark
Fennel and Orange Salad with Toasted Hazelnuts and Cranberries
Contributed to Foodista by Kiss My Spatula

Arugula Salad with Pomegranate, Avocado and Goat Cheese
Contributed to Foodista by Winnie Abramson

Southern Pear Salad


Photo: abyssalmissile
Sardi's Hearts of Palm Salad


Photo: Nina Gallant
Fig, Apple and Roquette Arugula Salad
Contributed to Foodista by RAWk Me!


Mary Bogue's Outrageous Cranberries In Cabernet Sauvignon



Photo: Veganbaking.net


Appetizers
Things get hectic on Thanksgiving day and the last thing we want to spend precious time on is an elaborate appetizer spread. Those just spoil the appetite anyway! When it comes to holiday entertaining my philosophy is "half-homemade/half store-bought." Don't have time to make your own fresh Hummus? Buy a plain version and dress up the top with some herbs and a flavorful olive oil. In less than 10 minutes you can make your own Herb and Spiced Goat Cheese. Or, throw mushrooms in balsamic vinegar for some delicious Rosemary Thyme Marinated Mushrooms. Below are some more of my favorite easy, crowd-pleaser holiday appetizers that you can make without breaking a sweat.

Easy Herb and Spiced Goat Cheese



Dukkah

This delicious Egyptian nut and spice blend is excellent served with olive oil-dipped bread.


Quick and Easy Hummus


Photo: La.Blasco


Homemade Parmesan Thyme Crackers



Rosemary Thyme Marinated Mushrooms


Blue Cheese Stuffed Peppadew Peppers

Head for the olive bar in your supermarket and pick up some of those little red peppers. They're sweet and just a bit spicy - perfect for stuffing with a pungent cheese like a blue (they're also great with goat cheese!).

Holiday Spiced Nuts



Photo: Girlichef
Easy Brazilian Cheese Puffs (Pao de Queijo)

Contributed to Foodista by Homemade Bites
Just 3 ingredients! And, they're gluten free!


Desserts
The Quintessential Apple Pie
Courtesy of Art of the Pie

Pumpkin Cheesecake with Caramel Sauce
Contributed to Foodista by Cooking With Michele


Pumpkin Bread Pudding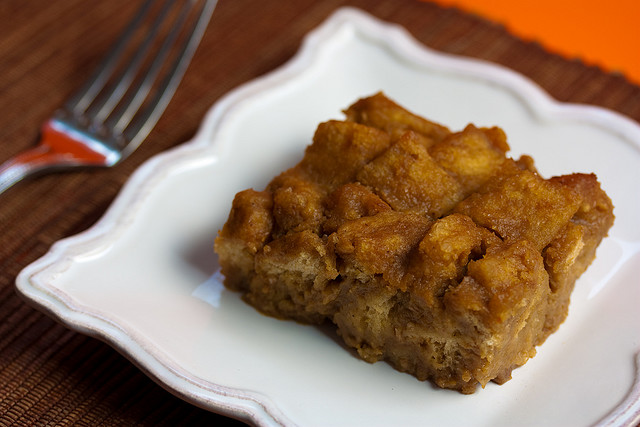 Photo: Veganbaking.net
Apple Pear Cranberry Crisp
Contributed to Foodista by Munchin with Munchkin

Fabulous Poached Pear and Brown Butter Tart
Contributed to Foodista by Kasey Fleisher Hickey

Pumpkin Latté Crème Brûlée
Contributed to Foodista by Culinary Crumbs

Cardamom Pear Upside-Down Cake
Contributed to Foodista by Chelsea Rutherford

Poached Pears in Red Wine
Contributed to Foodista by Living the Gourmet



Spicy and Savory Pumpkin Pie
Contributed to Foodista by May I have that recipe?

Meyer Lemony Apple Crumble
Contributed to Foodista by Integral Living & Eating

Southern Pecan Pie


Photo: @joefoodie

Triple Chocolate Pumpkin Pie

Wines to Pair with Thanksgiving Dinner
Courtesy of Jameson Fink - Wine Without Worry
Sparkling Wine 

What is more festive than bubbles? Not only are sparkling wines a great way to greet your guests at the door, they are also fantastic food wines. The bubbles and zest inherent in sparkling wines have a cleansing and refreshing effect on your palate as you transition from each distinct taste on your crowded holiday plate.
Rosé

It's not just for summertime sipping. Dry rosé not only has the added benefit of looking pretty on the table, but is great with poultry and vegetables.
Beaujolais

While Nouveau gets all the attention this time of year, I like to beat the drum for Beaujolais-Villages and Cru Beaujolais. Though made from the Gamay grape (like Nouveau), these are more serious expressions of Beaujolais that are wonderful with a slight chill and will convert any fan of lighter-style reds. Made from the best sites in the region, Cru Beaujolais has enough brawn to handle duck and even beef.
Any Crisp, Dry White

You can't go wrong with a bottle of Sauvignon Blanc from any part of globe. I'm also fond of Gruner Veltliner from Austria, especially when you can get it in a cool one liter bottle, which makes it extra-sharable. Both are very good with green salads.
Whatever You Like To Drink!

Zinfandel? Cabernet? Chardonnay? Saving a special bottle to share? Relax and enjoy the wines that make you happy. But be sure to try a few sips from everything on the table. With such an array of flavors on hand and within arm's reach, it's a great opportunity to sharpen your experience with food and wine pairings.