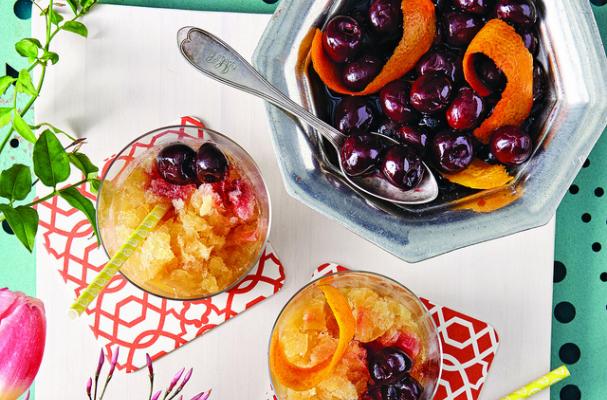 Booze-soaked fruit, like these drunken cherries, is always a good thing to have in your home bar kit. They make a wonderful garnish to cocktails and are an easy way to impress friends with your stunning culinary skills (no need to admit it's easy to do). My cocktail of choice is a good ole Manhattan, and these Bourbon-soaked Drunken Cherries are the perfect garnish.
This Drunken Cherries recipe is featured in What Can I Bring?: Southern Food for Any Occasion Life Serves Up, a new cookbook from Elizabeth Heiskell, author of the popular monthly column in Southern Living magazine that bears the same name. What Can I Bring? solves the problem of what to bring to an event as well as what to bring to your own table with scrumptious dishes that win big every time. Recipes include comforting Southern dishes for every meal of the day and every occasion with chapters covering events like Bringing Baby Home and Under the Weather to Dinner with Friends and Weekend Getaways. This cookbook is the perfect solution to the ever-present questions What should I make for dinner? and What should I bring to the party?
Drunken Cherries
"This is another of my favorite gifts to give. I always keep a batch for myself! You can use these little guys on top of store-bought cake, ice cream, or pie. Talk about turning store-bought into spectacular! They are always a lovely addition to any cocktail. This recipe is a New Orleans favorite. Of course, in NOLA even the fruit gets tipsy! These cherries are delicious on their own, but they make for a to-die-for Old-Fashioned. " ~ Elizabeth Heiskell
Serves 8. Hands-on 10 minutes. Total 8 hours, 10 minutes, including 8 hours chilling
2 (3- x 1-inch) orange peel strips
1⁄4 cup packed light brown sugar
1⁄2 cup (4 ounces) bourbon
1⁄4 teaspoon vanilla extract
1 cup thawed frozen or fresh pitted cherries (about 16 cherries)
Place the orange peel strips and sugar in a 1-pint jar with a tight-fitting lid. Using the back of a spoon, muddle until the peel releases juices. Add the bourbon and vanilla. Cover with the lid, and shake vigorously until sugar dissolves. Remove the lid, and add the cherries. Cover with the lid, and chill 8 to 12 hours. Store at room temperature for 3 months or in the refrigerator up to 1 year.
Bourbon Slush
"All I have to do is take one sniff of a glass of bourbon and I'm transported to a cool, fall day in Starkville at Davis Wade Stadium. I can hear the crowds and feel the excitement. Daddy never missed a game and neither did I. This drink is subtle and absolutely drinkable, and it will quickly become your most favorite game day or party go-to. It couldn't be any easier either, plus it freezes beautifully. You can make it months ahead so it's ready when you are. "
~ Elizabeth Heiskell
Serves 10 Hands-on 10 minutes  Total 10 hours, 10 minutes, including
8 hours chilling
6 cups hot brewed tea
1 cup granulated sugar
1 (12-ounce) can frozen lemonade concentrate
6 ounces frozen orange juice concentrate (from 1 [12-ounce] can)
2 cups bourbon
Combine the hot tea and sugar in a heatproof bowl; stir until the sugar dissolves. Add the lemonade concentrate and orange juice concentrate; stir until blended. Let stand until cool, about 1 hour. Stir in the bourbon. Pour the bourbon mixture into a large freezer-safe container, and freeze until almost firm, about 8 hours or overnight. Let stand at room temperature until partially thawed, about 1 hour. Spoon into glasses, and serve immediately.
Excerpted from What Can I Bring? by Elizabeth Heiskell. Copyright © 2017 Oxmoor House. Reprinted with permission from Time Inc. Books, a division of Time Inc. New York, NY. All rights reserved.
Categories: