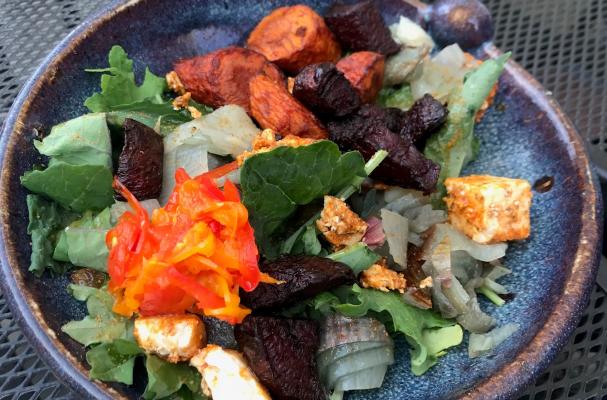 Part 2 of 47 Hours of Bliss in Spokane: -Riding the Waves, Dining, Wine Tasting, and More (read Part 1 here).
You would need to spend many more than 47 hours in Spokane to enjoy all the wonderful eateries in the city! Chef Adam Hegsted is the visionary behind the Eat Good Group – an ever-growing collection of restaurants, bakeries, kitchens, and catering. Chef Adam has been featured in many regional and national media outlets, such as the Wall Street Journal, the Los Angeles Times, and the Food Network. His awards include Best Chef of the Northwest, and he was a semi-finalist for the James Beard Award. In 2017 he founded Crave Northwest – Spokane's annual foodfest. Usually, a multi-day event, Crave 2021 will be just one day this year, August 27th, because of Covid restrictions.
We were fortunate to eat at Baba - Chef Adam's newest restaurant. Baba is known for its menu of traditional comfort foods prepared with spices from around the world, focusing on Mediterranean, Middle Eastern, and Asian. We definitely had to try the Deviled Eggs – which are such a specialty that Chef Adam features them in all of his restaurants. They are made with tahini, pomegranate molasses and paired with the nutty flavor of dukkah seeds and were delicious. Another of the specialties was the Fried Olives, which were breaded and fried and served with a dipping sauce of chermoula and yogurt. Also on our table that night (and greatly enjoyed) was the Fried Beet and Carrot Salad (pickled onions, smokey feta, honey, charred shallots, golden raisins, and greens). What made these Michael's favorite for the night was the spicey shatta peppers.
We were not done. Next, we enjoyed the Tabouli Salad (marinated bulgur wheat mixed with parsley, mint, roasted beets, orange, and chevre) and a side of Kofta Meatballs (spiced beef and lamb meatballs served with tzatziki, pomegranate molasses, and feta). Talk about an embarrassment of riches! And it was all delightful. Baba is located in the very cool, urban neighborhood of Kendall Yards, a quick 10-minute walk from downtown.
Another of Spokane's stellar restaurants is the Gander & Ryegrass, which is right downtown. I greatly enjoyed the Duck Confit – with a spring pea puree and pickled onion. The meat was so tender – it fulfilled that old "fall off the bone" cliché. Michael had the light and tasty Campanella Pasta with peas and mushrooms. If you go for dinner, you might want to run an actual marathon so that you are ready for their "Chef's Marathon" a three-hour dinner extravaganza with wine pairing for every course. Chef Peter Froese, who trained in Italy, makes all the pasta in-house and prides himself on the restaurant's perfect balance of elegance and comfort.
After our very exhilarating white water rafting excursion (see Part 1 of our Spokane adventure) we had worked up an appetite, so we stopped into Cochinito Taqueria. Chef Travis Dickinson specializes in classic street tacos with a creative twist. Michael loved the Octopus Tacos spiced with cumin and coriander and served with an heirloom tomato and corn salsa. I went with the more classic Griller Adobo Chicken Breast Taco – which came with a spicy salsa Roja. Both were scrumptious!
For the last dinner of our short trip to Spokane, we headed to the South Hill neighborhood for Luna Restaurant. Just a 10-minute drive from downtown, Luna has been a Spokane classic for the last 25 years. Husband and wife team Aaron and Hanna DeLis purchased the restaurant in 2015 and continue the classic style of Luna while creatively moving it forward. We began with a starter of Crab Cakes for the table. The delectable cakes are made with Dungeness crab, Old Bay aioli, and a sweet chili slaw. Michael chose the Coconut Prawns, which came in a nice spicy curry sauce. I couldn't resist the call of the wood-fired pizza oven, so I ordered the Margherita Pizza. After sharing bites, we agreed that we both had made excellent choices. We decided to save room for dessert, so we took several pizza slices back to the hotel. We finished off our meal with Tahitian vanilla bean gelato for me and mint chip for Michael. After dinner, we suggest taking the short 8-minute car ride to Manito Park to see some of the 20 acres of botanical gardens.
The next day, after our hearty pizza for breakfast, we went to the Spokane Cork District, which has 19 wineries, and 12 of them can be found right downtown. It is a great place to park the car, take a stroll, and do some high-level wine tasting.
We started with Barrister Winery. Owners Greg Lipsker and Michael White got into winemaking through a lucky happenstance. The two lawyers and their families were headed to British Columbia for vacation when they realized that no one had thought to bring any libations. So they stopped at a shop and ended up buying a 5-gallon Zinfandel winemaking kit. By the year 2000 they were crushing 1 ½ tons of grapes in Greg's garage. They knew they were onto something when they entered their wine in the Indy International Wine Competition and walked away with three golds and a silver! In 2001 they founded Barrister Winery. Having long outgrown the garage, they are now located in a historic 1908 building that started out as a car detailing company. Cars (think Model T Fords!) were brought directly from the railroad cars into the shop, then taken by freight elevator to the work floor.
We tasted the Sauvignon Blanc – the only white that they make. They source their grapes from the famous Red Mountain AVA, located to their east in the Columbia Valley in Benton County. The Sauv Blanc had a lovely light fruit and was cool and crisp. A favorite for both of us was the Sangiovese, which has won a double gold. Also sourced in Red Mountain, the wine had a fruity nose and rich red fruit notes. Their best-selling wine is Rough Justice, a red blend of Merlot, Syrah, Cab-Franc, and Cab- Sauv.
Our last stop was Arbor Crest Wine Cellars. It is located out of the downtown core and above the Spokane Valley – nestled on a hilltop in the historic Cliff House. It is called Cliff House because it is literally perched on a 450 ft. high cliff. The house was designed and built by Royal N. Riblet in 1924, whose company Riblet Tramway Company designed and built some of the earliest ski chairlifts. Royal took credit for many of the inventions, but brother and engineer Byron Christian (BC) was the designer and Royal more of the salesman. We strolled the incredible grounds to see stunning cliffside views, a pool, giant checkerboard, numerous gardens, a vineyard, and a cherry orchard. The property also includes a tasting room, several office buildings, and plenty of space for outdoor concerts.
Arbor Crest was established in 1982 by Harold and Marcia Mielke. It has since been handed down to the next generation – daughter Kristina and her husband Jim van Löben Sels. Kristina worked as an associated winemaker for a big winery in the Napa/Sonoma area and took her skills to Spokane in 1999. Kristina took over as head winemaker, and Jim became the viticulturalist. Many of their grapes come from Royal Slope AVA – the newest AVA in Washington state. We particularly liked the Riesling, which was dry with just a slightly sweet note and flavors of green apples, lime, and a twinge of ginger. We also enjoyed the Merlot. Made with grapes from the Columbia Valley, it was very full-bodied, for a Merlot, and had notes of plum, anise, and cedar.
After two very full days of fun and lots of excellent food, it was time to head back to Seattle. It was hard to leave, but knowing that Spokane really isn't that far – we will definitely be back.
Editorial disclosure: lodging, beverages, and food generously provided.
Image Sources:
Categories: